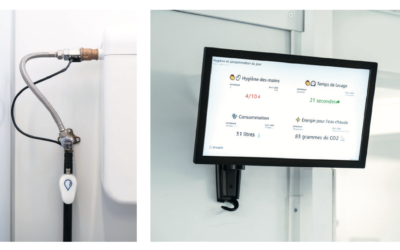 Press release – 14.10.2020
Vivalys is the first school in the world to automatically measure the level of hand hygiene of its students through connected water sensors. Developed by the startup Droople, this one of its kind solution will contribute to the fight against the spread of COVID-19.
Since implementing this innovative system, the Vivalys School has notably observed decreased absences due to various childhood illnesses (gastroenteritis, flu, and colds). Mobilized for our children's safety during this pandemic period, this innovative solution has therefore proven its usefulness.
The data collected by Droople's sensors are displayed in real-time on a screen and on our website. Analyzed daily by our students in the form of graphs and statistics, this information represents an additional source of learning as part of our operative and iterative pedagogy (POI), which systematically links the teaching of fundamental knowledge to experience.
Please do not hesitate to contact us for further information, we will be happy to answer your questions or open our doors to you.
Droople smart sensors
Providing users with fine-grained water consumption, the level of hand hygiene, the handwashing time, or the energy used to heat the water, these are some of the possibilities offered by the solution provided by the swiss startup Droople, now a partner of the Vivalys School.
For more information, Mr. Ramzi Bouzerda, founder and CEO of Droople, is at your disposal:
T. 079 505 78 76 / ramzi@droople.io / www.droople.io
The Vivalys School
A member of the prestigious Vaud Association of Private Schools (AVDEP), the Vivalys School is part of the Educalis Group, a premium group established in Ecublens (VD) who employs 120 employees.
For more informations, Mr. Olivier Delamadelaine, General Director of Educalis Group, is at your disposal:
T. 079 615 59 14 / olivier.delamadelaine@educalis.ch / www.vivalys.ch